All-New 2021 Grand Cherokee L

The All-New Jeep
Grand Cherokee L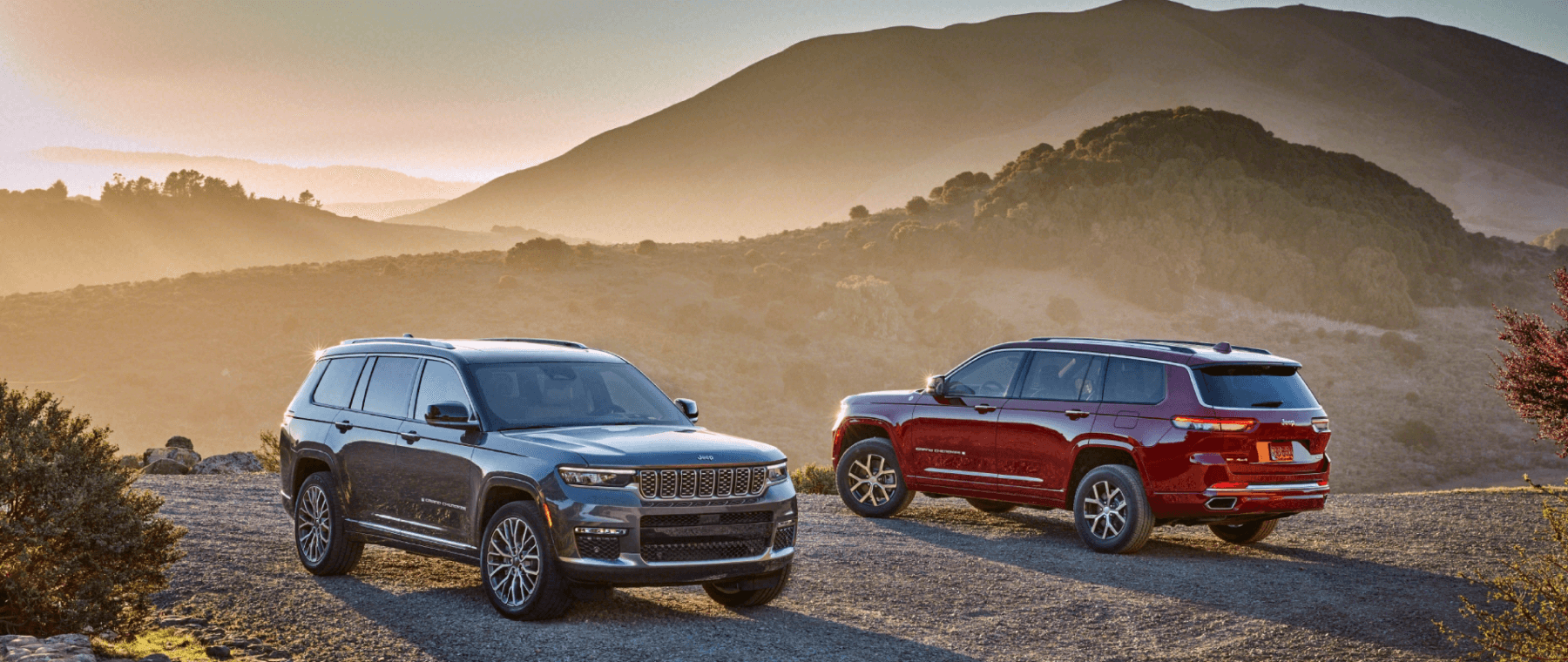 The Jeep brand is one that is known for listening to its customer base. The proof lies in the evolution of the Jeep Wrangler since its inception. The Jeep brand has done once more, they heard the need for a Grand Cherokee capable of carrying more passengers than ever before. The solution? Adding a third row for the first ever on the Grand Cherokee, while still providing legendary 4×4 capability. In this blog, we will dive into each of the Grand Cherokee L's features that make it a formidable 4×4 SUV. Being that it is an SUV, with multiple trim levels, all factors of a vehicle become relevant, so we will be looking at its towing and off-road capability in line with its exterior and interior look!
6.5″ to 10.9″
Ground Clearance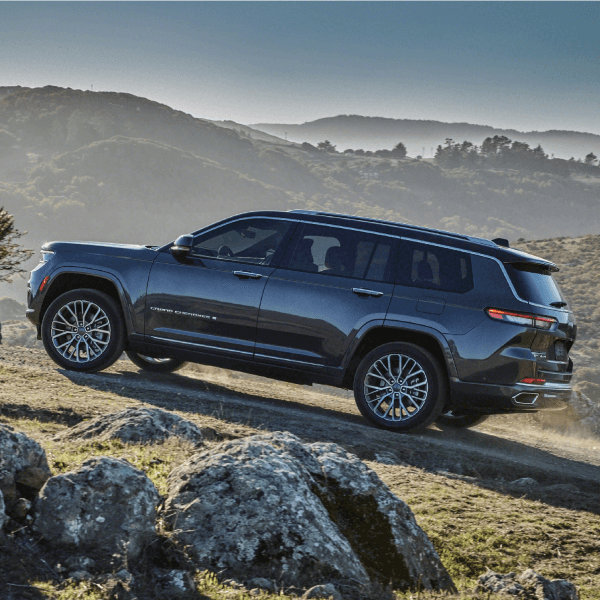 In retrospect, there really wasn't much that Jeep needed to change about the Grand Cherokee in regard to its powertrain. Jeep decided to keep 2 engines available to its customers for the Grand Cherokee L. Those two are the 3.6L Pentastar V6 engine and the 5.7L V8 engine. These engines produce 290 horsepower and 257 lb-ft of torque, with the V8 producing 357 horsepower and 390 lb-ft of torque. You'll find both engines paired with an 8-speed automatic transmission. Given that this is still very much an SUV, Jeep knows you'll be towing, and you'll be happy to hear that the V6 engine can tow up to 6200 pounds and the V8 can tow up to 7200 pounds! As if that didn't make this car enticing enough as it is, then know that this SUV still comes with those same Jeep capabilities that you know and love. Jeep. Capabilities like an electronic rear limited slip differential. Available adaptive dampers and air suspension with five ride height setting ranging from 6.5 to 10.9 inches of ground clearance.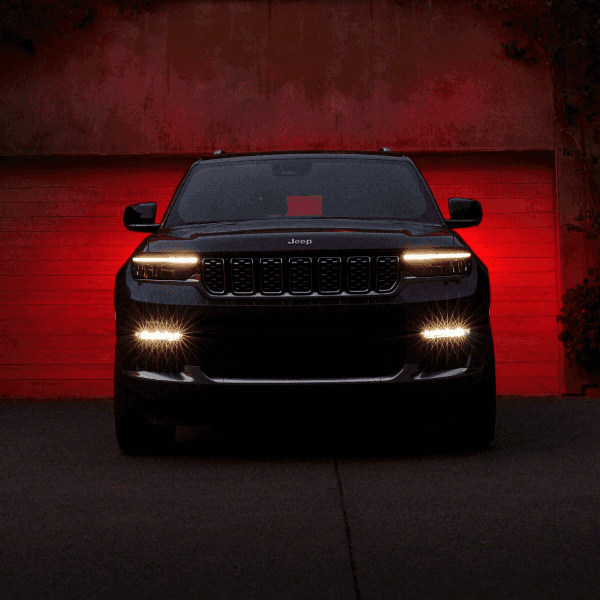 When you first see the new generation of the Grand Cherokee, you'll be able to see that its design has been inspired by the original Wagoneer. The biggest dose of the Wagoneer can be found on the seven-slot grille which has been slanted slightly forward with LED headlamps on either side. The front fascia has also received the added feature of active openings and it's been enlarged to hide driver assistance tech. While the Grand Cherokee L will come in 4 trim levels; Laredo, Limited, Summit and Overland, you'll find that the top two trim levels come standard with 20-inch wheels while the other two trim levels sit on 18-inch wheels and the Summit Reserve package will sit on 21-inch wheels if you're feeling like bigger is better.
Standard 10.3″ Digital Cluster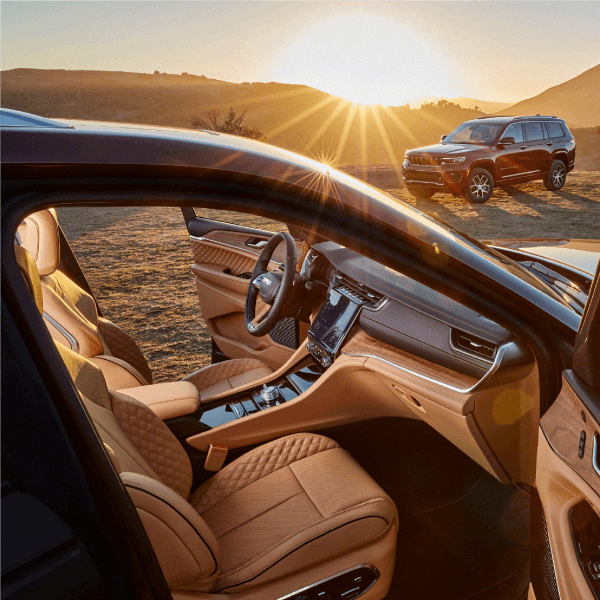 To kick off the interior topic I'd like to dive into the available storage in the Grand Cherokee L. You'll find that behind the second row you'll have 47 cubic-feet of storage, that's 11 cubes more than the two-row Grand Cherokee L! The Grand Cherokee L's biggest hallmark is the improvement of its cabin. Many experts state that when well-equipped, the Grand Cherokee competes with luxury SUVs like the BMW X5 and the Mercedes GLE class. You'll find that the 8.4-inch Uconnect screen is standard on all trim levels with an available 10.1-inch screen on all trims except the Laredo. You'll also find comfort in knowing that a 10.3-inch digital cluster is standard on all trim levels and a heads-up display is available too!
The All-New Jeep Grand Cherokee L goes on sales Spring of 2021, it's expected to be priced just under $40,000 for the Laredo trim level and work its way up from there. The Grand Cherokee L is truly an SUV for those who were looking to own a Grand Cherokee with three rows instead of the usual two rows we've all come to know and love. You can pre-order your Grand Cherokee L today, call or visit us at Bill Luke Chrysler Jeep Dodge Ram to start your GRAND journey!
The post All-New 2021 Grand Cherokee L appeared first on Bill Luke Chrysler Jeep Dodge Ram.
Source: Bill Luke CDJR