How can I negotiate prices with a dealership?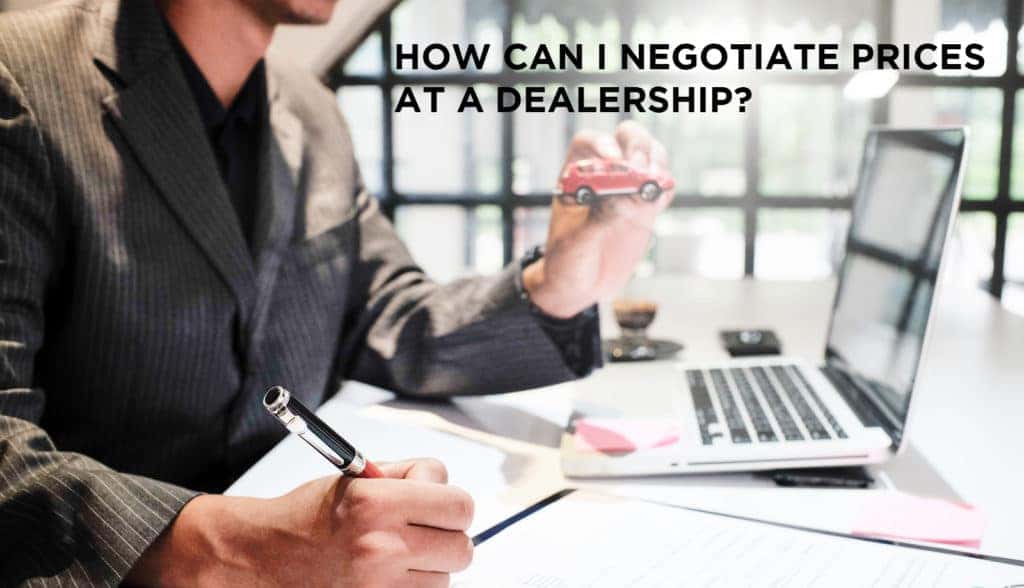 it's simple – you get an online quote.
Shopping online for a vehicle in 2018 has become so robust all you need to do is shop online.
You can be thinking;
No, I am pretty sure I can haggle the salesman down, I know he makes a huge commission. 
That is not how it works.
The salesman is here to help you with every step of the way, and it comes down to MSRP and Incentives (If buying New).
When shopping online you are most likely going to see the lowest price you can get for that vehicle, now this isn't for all dealerships but this is for most.
The online price is to motivate you to visit the dealership and see the model you are looking for, with you given the understanding of how much you are going to spend.
Well, what about my monthly payment and how come it is high?
That can be based on a variety of reasons and you need to ask that with your salesman when you visit. Some example reasons can be the cost of a vehicle, bad or new credit, down payment, or this is something you can settle with your bank.
Well, what is the best amount of money to bring for a down payment on a vehicle? 
First, make sure you save as much as possible without putting yourself in a difficult spot. We recommend on saving 10% of the valued price of the car you are looking at.
You may be asking, what does saving 10% for a down payment do for me?
Edmunds couldn't have said it better–A solid down payment will achieve two things: Reduce your monthly payment and offset the initial hit in depreciation. A new vehicle depreciates by an average of 20.3 percent in its first year, 9.9 percent in the second and 10.2 percent in the third year, according to Edmunds data. If you only put down a small amount of money, you'll have negative equity in the car, meaning you'll owe more on it than it's worth.
So, to go back to the topic, How Can you negotiate prices with Dealerships? Simply look at the online price and make sure to look at window sticker and don't forget to ask about those incentives!
The post How can I negotiate prices with a dealership? appeared first on Bill Luke CJDR.
Source: Bill Luke CDJR