The All-New 2021 Ram 1500 TRX

The Highly Anticipated Ram 1500 TRX is Finally Here!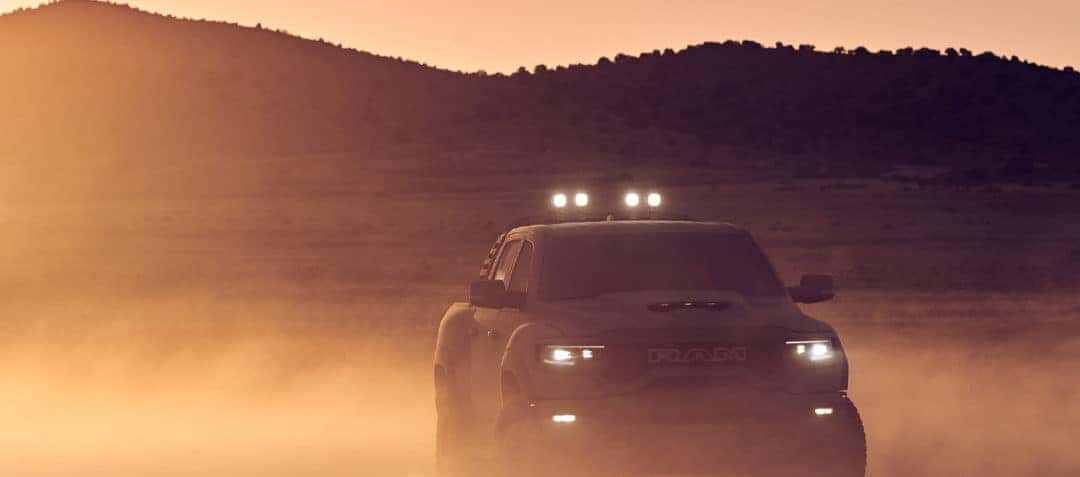 The All-New 2021 Ram 1500 TRX
If you have been searching far and wide for the best truck to purchase, then you may have seen that there is a new contender in the horizon. The truck in question is none other than the 2021 Ram 1500 TRX that Ram Trucks has recently announced in August 2020. It's been a long-time coming for FCA to finally bless one of their Ram trucks with a 6.2-liter supercharged Hemi. We're excited to see a 702 horsepower, 650-lb-ft supercharged V-8 pushing the envelope on and off the road in 2021!
According to Ram Trucks, the TRX is estimated to accelerate from 0-60 in just 4.5 seconds and up to 100 mph in 10.5 seconds. It will also complete the quarter mile in just 12.9 seconds at 108 mph. There's no question that this truck was built to take down the Ford Raptor. Ram went out to search for the best tires and landed on some 35" x 12.5" Goodyear Wrangler Territories which gave the TRX a "T" speed rating which means that it's approved for speeds up to 118 mph.
Off-Road and Street Capability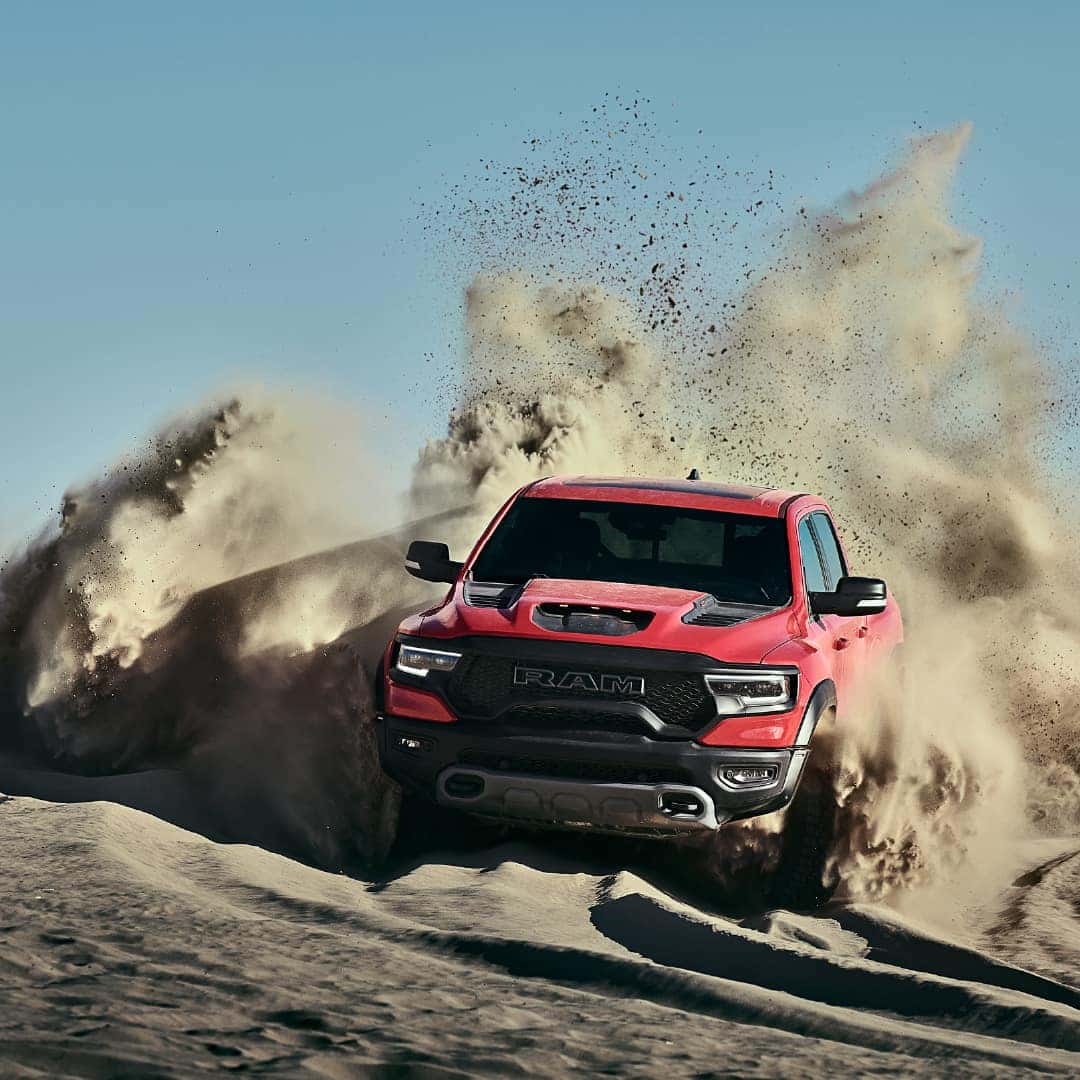 There's no question that the TRX was built with a desert mentality, but you can tell that the Ram engineers also kept a straight line in mind when building this truck. Standard on this truck is the programmable 12.0-inch Uconnect 4C screen, which combines the off-road pages of the Rebel with the "great-performance" pages of the SRT. With a quick push of the TRX button you can have quick access to driving modes (Sport, Tow, Snow, Auto, Custom, Mud/Sand and Baja), a Launch Control button, controls for hill-descent and traction control, 4WD modes (Auto, Low, High and Neutral), and even access to a manual locker for the Dana 60 rear axle. 
One thing to note is that there is no front locker, but the brakes automatically engage to limit front wheel spin. Another fun feature on the Baja mode is that the TRX calibrates 4WD, steering systems, stability control and suspension for ultimate desert performance on undulating, loose surfaces. Finally, jump-detection technology limits the engine from freewheeling into damaging speeds when those Territories leave the ground.
Frame / Suspension Ram 1500 Upgrade
Right from the get-go, you'll be happy to know that the TRX has no bolt-on trim, suspension or powertrain kit from the 1500 series. According to MotorTrend, the team over at Ram Trucks initially wanted to fit a 2500 series frame, but later found it easier to alter 74% of the Ram 1500 frame. The frame boasts an increase in metal gauge thickness to strengthen the suspension mounting points as well as increase the overall gross vehicle weight rating to 700 pounds. The payload and towing capacity top out at 1,310 and 8,100 respectively which are each greater than the Raptor by about 100 pounds.
The TRX is proud of its all new coil suspension which rides 2.0 inches higher than the Ram 1500. This provides it with 11.8 inches of ground clearance and compliments its thoroughly revised upper control arms which boost its track width by 6.0 inches and provide 13.0 inches of total front wheel travel. In the rear, you'll be happy to know that the new track arms and taller springs—at 23.6 inches gives the TRX 14 inches of rear wheel travel.  Overall, this puts the TRX's suspension travel at an advantage over all other 1500's with an increase of 40%.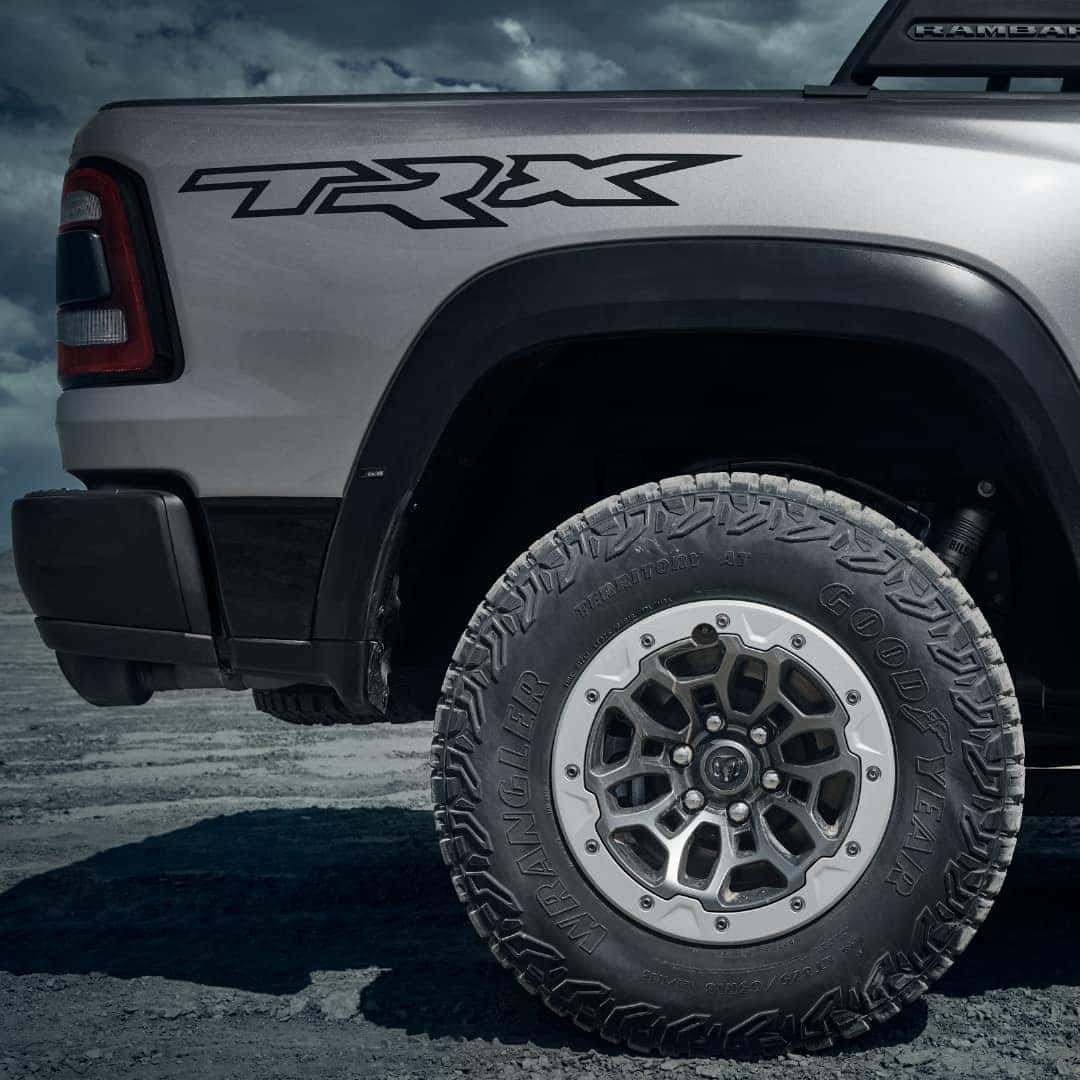 Upgraded Tires & Suspension
One thing to notice about the TRX is that it has joined the flared fender club with its composite front and steel back fenders. These flared fenders make the TRX wide enough to require what's known as clearance lights, just like the Raptor. Ram decided to place these lights inside of their functional hood scoop and along the edges of the bumper. The wide fenders also serve the purpose of creating an air curtain path that connects inlets on the outside of the head lamps and on the fender vents behind the front wheels. Some other cool features on the exterior of the TRX are standard automatic steering led projector headlamps, four oversized tow hooks, a new high-flow grille with open 'RAM' lettering, and a TRX unique front bumper and skid-plate. All in all, you'll be pleased to know that the TRX wheels are also unique with 18" x 9" with a bead-lock option. Customizations are also available to customers with 100 accessory items to choose from when you shop from Mopar.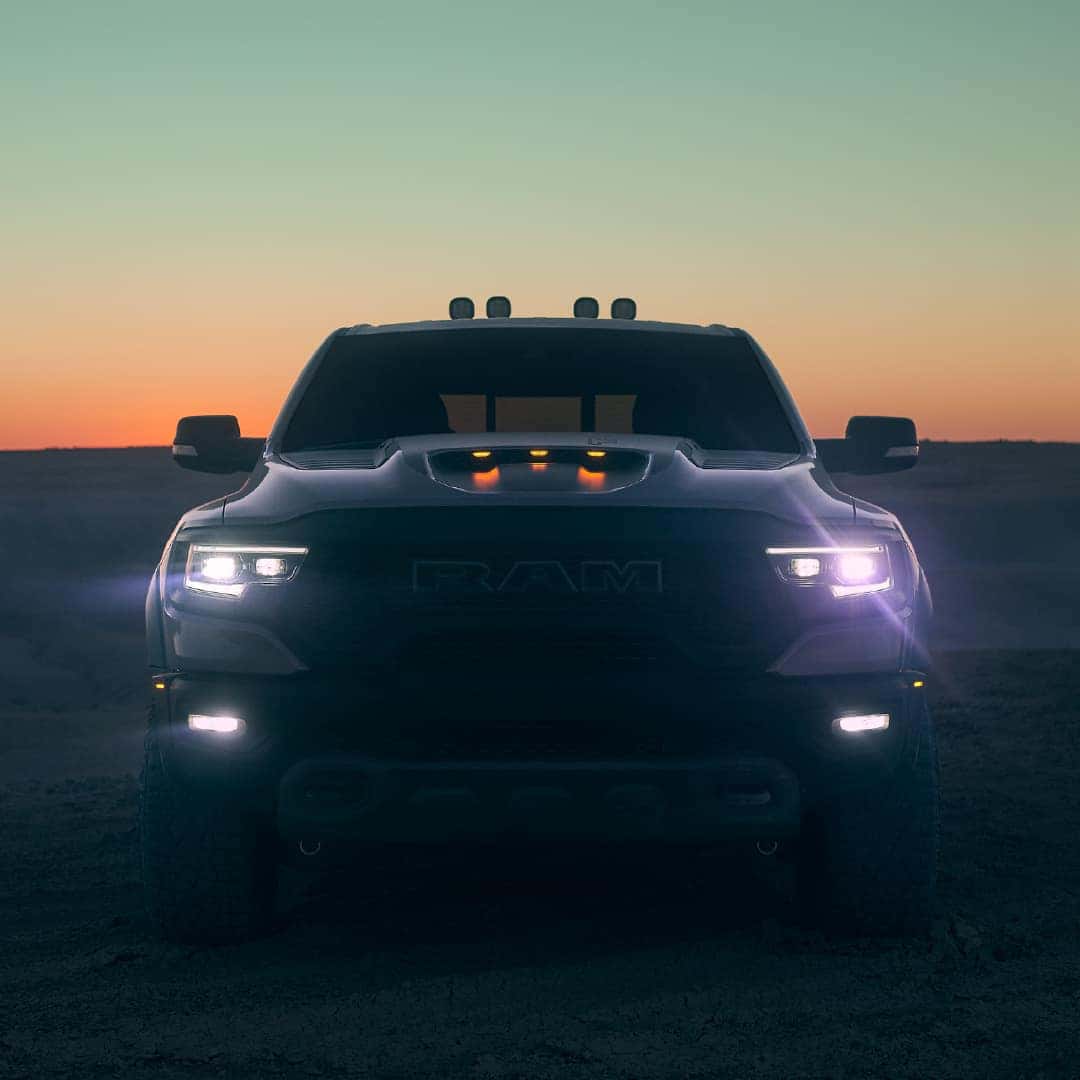 When you first step into the cabin of the TRX, you're not just stepping into the cabin of any truck. The interior of the truck starts off with the interior from the Rebel, but then borrows upgrades from the Limited series to give it that extra appeal you want from a truck like the TRX. On all TRX trucks you can find a flat-bottom steering wheel with thumb-rests, unique instrument graphics, and even high-bolster SRT-style seats that have an extra inch of lateral support.
Cloth and vinyl upholstered seats
The seats, dash, console and door tops in Natura leather and suede
An optional 19-speaker Harman/Kardon audio system
MOLLE straps for the front seat backs to attach different kinds of gear.
Front seat ventilation
Suede wrapped steering wheel
Top of the line reclining rear seats
A programable 10.1-inch heads-up display
Wireless device charger
A new 9.2-inch digital LCD rear-view mirror
The all new Ram 1500 TRX is a truck that is expected to drop by the end of 2020 at Bill Luke CJDR! We are excited about all the amazing features on this truck inside, outside and even under the hood! It will truly be a force to reckoned with. If you would like to learn more about how you can order one, call us today to build a TRX that's right for you! 
The post The All-New 2021 Ram 1500 TRX appeared first on Bill Luke Chrysler Jeep Dodge Ram.
Source: Bill Luke CDJR